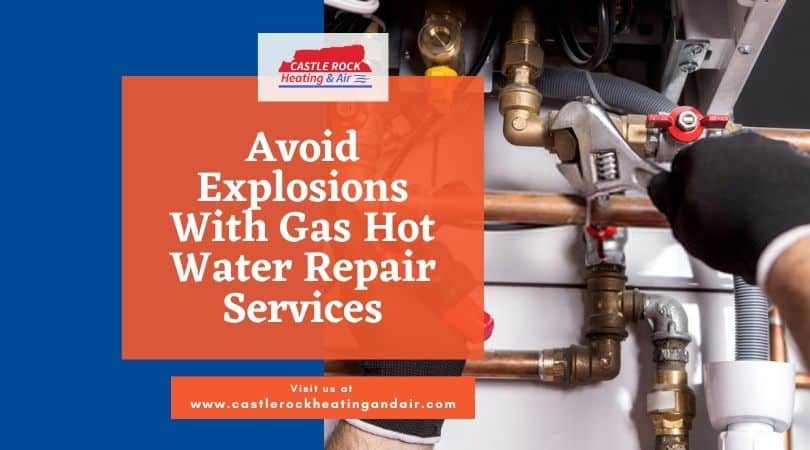 Have you heard of a blast because of the water heater? Well, it is possible, especially with gas water heaters. Without proper maintenance and repair, a gas water heater could be lethal for your home environment.  
You can avoid such grave circumstances and protect your family from a disaster by employing a gas water heater repair service.

Cause For Gas Hot Water Heater Explosion?
A hot water heater can be a ticking time-bomb in the following circumstances:
Gas Leakage

: If there is gas leakage in a gas hot water heater, even a small spark can cause a huge explosion.

Carbon Monoxide Poisoning

: Improper venting at home can release carbon monoxide in the air of your household. Since its colorless and odorless gas, detecting carbon monoxide poisoning is difficult. It is so dangerous that it can lead to immediate death sometimes.

Water Pressure in Tank

: During the water heating process, water pressure increases in the tank. If the channel removing the pressure from the tank is blocked, it can lead to an explosion.
Tips To Avoid Gas Hot Water Heater Explosion
Gas hot water heater explosions can easily cost damages up to thousands of dollars. So here are the tips to avoid these unfortunate circumstances:
Regular

repairs and maintenance

by gas hot water heater repair service help detect problems if any.

Make sure that your gas water heater is properly vented to avoid any carbon monoxide gas leakage.

Install a carbon monoxide detector all around your home to alert you when it reaches the dangerous level.

Avoid using chemical cleaning solutions to clean around the gas water heater to avoid an explosion. Instead, use clean plain water to clean around the area.

Keep all the flammable objects away from the gas water heater.
Reasons To Appoint Gas Hot Water Heater Repair Service
To avoid putting the safety of your family at risk.

Saves time and money.

Convenient and gives peace of mind.
Create A Safe Environment For Your Family With Gas Hot Water Heater Repair Services
The answer to avoiding this dreadful water heater explosion in Castle Rock and the nearby areas is by hiring a professional gas hot water heater repair and maintenance.
We at Castle Rock Heating & Air cater to your needs for a healthy environment. To do so, our experienced technicians use the latest technology and equipment in the market. Book an appointment today by calling us at (303) 798 0035. Join us on our Social Media platform for the newest updates.