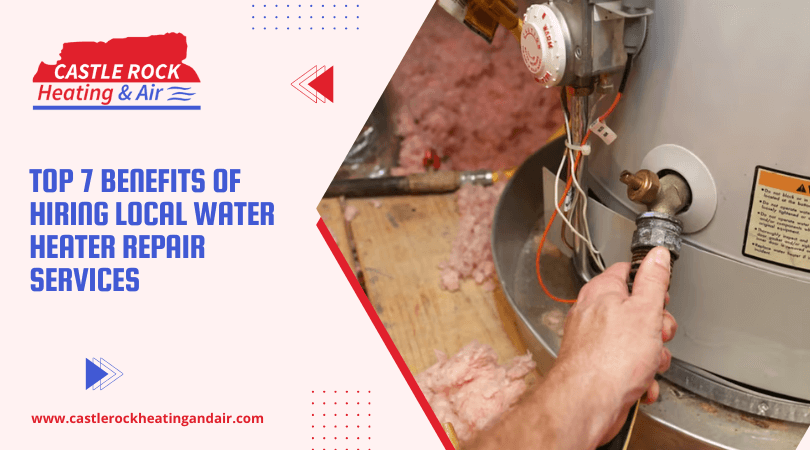 There are many benefits of hiring local water heater repair services during winter. Because there is a great demand for hot water during cold months and you need hot water for cooking or bathing.
During such times, if your hot water stops working, you need a water heater repair service. Professional repairers inspect the problem and ensure that the heater is functioning smoothly again.
Read below the benefits of hiring local water heater repair services to mend your water heater for your comfort.
 Benefits Of Hiring Local Water Heater Repair Services
⇨ Safe Repairs 
You can handle other problems in the house by yourself. But when dealing with water heater issues, don't try to fix them alone. The combination of water and electricity can have disastrous results if you are not a professional.
Professional water heater repair services follow the necessary precautions while repairing your heaters. And ensure both their and your safety.
⇨  Fast Service
Professionals are trained and have years of experience dealing with water heater issues. When you call them to fix your water heater problem, they will quickly diagnose the problem, give you an estimate and start working on it as soon as possible.
With professionals, you can get hot water running again in no time, so you don't have to use icy cold water for long periods.
⇨ Warranty On Repairs
If you try to fix your damaged water heater by yourself, you risk injuring yourself and also making the heater's warranty void. It is another benefit of hiring local water heater repair services.
Professionals offer a warranty on all their repairs. So if the repairs don't work, they will provide re-service free of cost until you are satisfied with the work.
⇨ Savings On Energy Bills
When you have a faulty water heater, you have to deal with cold water even in winter, and it costs you financially. If you have invested in an energy-efficient water heater just to save money on energy bills, a faulty water heater can negate all the benefits.
Experts will tune your heater in a way that it will work optimally and won't consume additional energy. Thus, helping you save money on electricity bills.
⇨  Extended Lifespan Of Heater
Using a quick DIY fix on your water heater when there is an issue with it increases the chances of that problem recurring. Professional water heater repair services fix your heater in a way that will eliminate the problem from the root and stop it from returning.
Thus, professional service will extend the life of your water heater and save you from the extra cost of buying a new water heater.
⇨ Get Consistent Hot Water
Another benefit of hiring professionals is that you don't have to worry about suddenly getting cold water while you are showering or doing your dishes. After you get your heater fixed by professionals, you can rest assured of getting consistent hot water.
⇨  Peace Of Mind
Having a broken water heater during the cold months can cause a lot of stress in the household. As everyone has to make do with cold water or heat a small quantity of hot water on a stove for bathing purposes. Moreover, icy water can be harmful to children and the elderly.
Experts repair your water heaters quickly and ensure that your peace of mind is not disturbed.
Bottom Line
You don't have to suffer through broken water heaters during winter. After reading about the benefits of hiring local water heater repair services from this blog, get your damaged heater repaired by professionals. To save money and get a consistent hot water supply all year around.