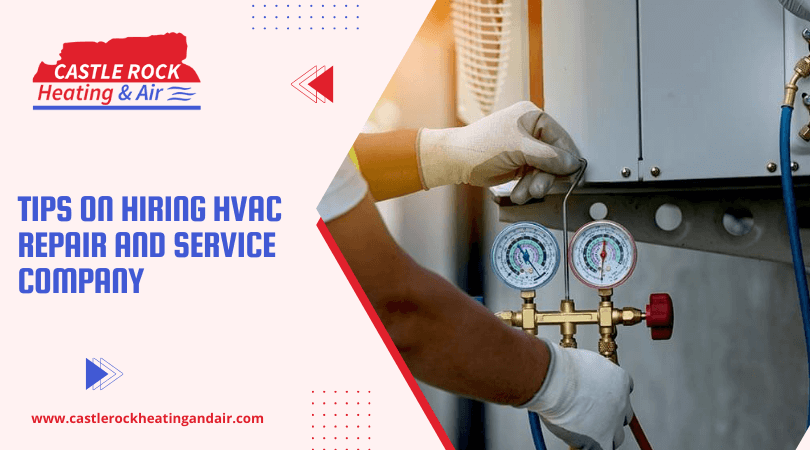 Is your furnace giving you trouble? Or perhaps your AC is not working properly, and you are searching for professional HVAC repair services to repair them. Hiring trustworthy technicians can be challenging, but we can help.
Here, we will discuss 5 amazing tips for hiring an HVAC repair and service company that will help you find the perfect professionals to do the job for you.
Tips On Hiring HVAC Repair And Service Company
⇒

Do Proper Research

To hire worthy professionals to repair your HVAC system, you must have sufficient knowledge to ask them some basic questions to check their knowledge in the field and also to help experienced professionals identify the problems with your HVAC unit.

You should at least have the following information ready for the HVAC technicians.
↳

Manufacturer & model information:
Information on the manufacturer of your HVAC system and information about your model.
↳

Maintenance history:
A brief history of all the previous maintenance works done on your HVAC system.
↳

Current issue:
You should know things like the date when the problem started, the progression of the problem, and which things are not working properly due to the issue.
You can use the information to filter the bad technicians from the good ones, as informed professionals will use the knowledge to find the issue quickly.
⇒

Confirm Their Credentials

Before they start the work, you need to check if the HVAC repair company has the required credentials and certifications to carry out the work. There are different certification requirements in different states, which you can find on your state's website.

Moreover, many institutes provide training to HVAC professionals. So having certification from them can also count as proof of their training. Some of these certificates are:
Section 608 technician certification given by the EPA.
ACCA ( Air Conditioning Contractors of America) provides HVAC Quality Installation Certification.
North America Technician Excellence also awards training certificates to HVAC technicians.
You should also ensure that the professionals repairing your HVAC unit have general liability insurance.
⇒

Ask For References

If you truly want to check out the kind of service an HVAC company provides, you should ask them for references and testimonials. Professional HVAC services will have excellent reviews on their website, and they will also have positive client references and testimonials.

When you call any of the references provided by professionals, ask them the following questions.
What kind of work the technicians did for you?
Did you get a quote or initial price before the professionals started the work?
Did the final price match the proposed price or not?
 Did the professionals finish your work on time?
Did the technicians create too much mess while working?
How was their behavior during the project?
Will you hire them again?
Hire the technicians if you get an affirmative answer to most of these questions, especially the last two.
⇒

Check Their Experience

You don't want your HVAC unit handled by amateurs, right? It is why you should always check the experience of the HVAC repair company you are hiring. Experienced professionals will be able to handle different types of projects with ease as they have versatile training.

If you want to find out about the experience of the professionals, you can check their website. Also, you can ask questions to verify their experience, particularly in repairing your type of model.

Here are some helpful questions you can ask.
Have you previously worked with this specific brand and particularly this model?
What type of work did you previously do on this model?
Do you have any formal training in repairing units of this brand or any other similar brand?
From the answers the professionals give, you can get a get idea about their previous experience.
⇒

Compare Prices

Finally, you should ask the top HVAC repair companies on your list for a quote and compare them accordingly. To do that, you must know the average price for this yourself.
The average cost to repair a fireplace ranges from $250-300, so if your fireplace is acting up, professionals should charge around this price range unless the damage is too severe.
Similarly, AC repair costs range from $400-1000 on average, and if the professional quote is in this price range, you should consider hiring them.
However, do not fall into the scam of hiring professionals who offer to repair your HVAC unit for a low price but cannot provide valid credentials.
What Are The Qualities Of a Good HVAC Technician?
You can also decide if you want to hire a particular HVAC repair service by the types of technicians they employ. A trustworthy HVAC company will hire technicians with the following qualities.
Good customer service skills
Test their equipment regularly to know their condition.
Willing to work in all weather conditions.
But the most important trait of a good HVAC technician is trustworthiness.