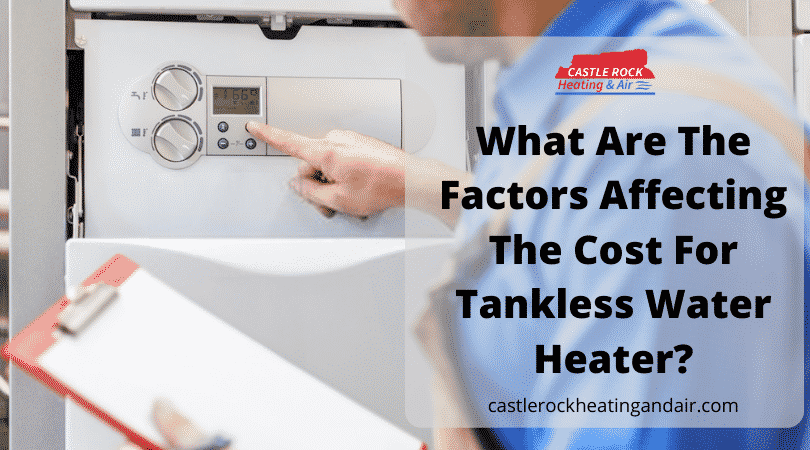 Tankless water heaters come with multiple benefits. First, they heat the water directly without usage of the storage tank. Also, they take less space and have a low risk of leakage. Moreover, they are safe and have a longer lifespan. 
Due to all these prime benefits, tankless water heaters cost 2 to 3 times more than traditional water heaters. Then, know below the different factors that affect the cost of tankless water heater servicing.

Different Factors Affecting The Cost For Tankless Water Heater
Type of tankless water heater
The cost varies depending on the type of tankless water heaters. These are electric, natural gas or propane water heaters, and solar heaters. The electric water heater average cost of installation is $800 to $1,500. While the natural gas or propane water heater styles cost around $1,000-$1,500 to install.
As these electric units take more energy than gas heaters, you may need an experienced electrician to rewire it in your home. A solar water heater unit costs around $2,000 to $6,000 to install. 
Labor cost for installation
The labor cost to install the gas tankless water heater is $150-$600. While hiring a plumber, you can expect to pay him around $50-$125 per hour. If your current water heater needs some electric or structural updates, then this will add an extra charge to the final cost.
Moreover, if there is no gas hookup in your house, then to install a new tankless water heater will cost extra pay. The national average cost to run a new gas line in a house is around $500.
Size of tankless water heater
Mainly, the tankless water heaters differ in the rating system. It means they are sold according to demand and based on their flow rate. The size is measured in gallons per minute (GPM). 
Tankless water heaters are further classified into 2 types. They are single point heaters and whole-house heaters. Single point heaters will cost $150 each that are suitable for bathroom shower areas. Whole house heaters cost around $1,000 and they are mainly gas powered only.
Looking For a Professional Tankless Water Heater Services in Castle Rock?
While you have a water heater already installed, and if your family size grows more, then you can always take professional help. The professional tankless water heated services in Castle Rock by Castle Rock Heating and Air gives you cost-effective solutions. 
To know more details, call us at (303) 798-0035. Stay updated with our Facebook page to learn more factors affecting the cost of tankless water heaters.