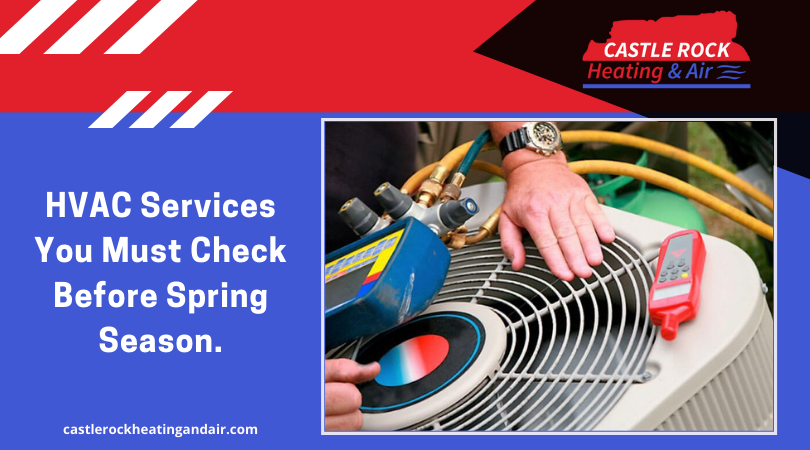 With springtime just over the bend, it's necessary to ponder about house cleaning and getting your HVAC system prepared for the warm temperatures. Making preparations ahead of time not just spares you effort and cost, but also saves a lot of irritation if your conditioning system fails in the heat of the summer. It also qualifies you as a savvy householder! Thus, it is essential to get HVAC services before springtime.
Here are a few pointers from Castle Rock Heating & Air on how to get your HVAC system set for early summer.
Factors To Consider For Getting HVAC Services
One of the first things you should do to prepare your HVAC system for the warm weather is to clean the air ducts in your home. This will make sure there is nothing that will impact the flow of air from your air conditioner.
Not only does it make sure the ducts are clear, but it is also important to make sure there is no mold, mildew, fungi, or any other toxic substance in your ducts that will travel throughout your home. Any HVAC service near you will recommend doing this once a year professionally.
Changing your air filters is yet another crucial element of HVAC upkeep. At most once every 30 days, these must be replaced! Because you never know anything gets caught up behind these screens, updating them will ensure that you are breathing clean air.
The HVAC system would also be overworked if your filter is unclean. If you wouldn't clean your equipment and update the filters regularly, you could end up with pricey repairs or overhaul in the future. Thus HVAC companies near you might suggest you have good quality filters put in place to ensure proper functioning.
The outer parts of your ac unit are especially susceptible to damage and strain than the inside parts since they are subject to the weather. Inspect the circuits and wipe them if needed in the springtime to guarantee that your cooling system keeps working properly.
This may usually be done with a hosepipe, but because of the skill in wiping coils, pros advise engaging A/C maintenance contractors for this operation. Difficulties are more probably to be addressed the very first occasion with their sophisticated gear and decades of expertise in Air conditioner tune-up. Maintaining your HVAC system regularly will enable you to get the maximum from it. To get the outdoor unit cleaned you need to contact HVAC contractors near you. This is because they have got the proper equipment and skills to do so.
Preventative Maintenance of HVAC System
When you've owned the HVAC system for some time, it's likely due to some routine service. Proactive service can assist you to prevent more serious issues down the road. You can prevent expensive difficulties in the future by taking good care of the items that can be readily remedied now. Gunk in the screens and any apparent build-up on the circuits are two aspects to consider for.
Look for a manual that accompanies the system to verify these points out for yourselves. Usually, it will give you a stage process plan to assure that you get the most circulation with the least increase in power loss. Nevertheless, if you want the best cleaning and upkeep, you need to hire professional HVAC services.
Buy A Programmable Thermostat
Given the option to utilize a smart thermostat would be the first step unless you're one of many people who wants to save money on energy. Although some users may be attracted to the notion of self-programmable controls, these devices are frequently not set at an energy-saving level.
Moreover, these solutions frequently result in significant energy loss as well as excessive air – conditioning expenditures, which will only harm the customer in the foreseeable future. A smart thermostat also puts less strain on the HVAC system, giving you two benefits for the value of just one. Local HVAC repair & service personnel can suggest you on the best buy.
Inspect Pipe Insulation And Condensate Lines
The pipelines that supply heat and water to your house are prone to sediments, which can reduce the effectiveness of your equipment. You must check such pipelines for obstructions and fractures once a year. You'll also need to examine your condenser connections. If you have got a compelled arrangement, you must ensure that the condensation lines are correctly discharging.
You must also check that pipes are not blocked or rusted. These flaws have the potential to cause major harm to the system, thus it's critical to conduct annual checks to avoid this. If you use an outdated model, you may also want to consider whether or not you need to replace the pipes. HVAC services usually recommend changing the pipes if they show quite a lot of rusting and leaks.
How Often Do You Need HVAC Services?
Spring is the essence of a fresh start and good air quality, but it's also the time to pay attention to your HVAC system. Spring is the best time to get your house conditioning system ready for the year ahead. You'll be on the path to a strong and healthy AC system if you implement these suggestions.
Contact Castle Rock Heating & Air for reputable HVAC companies near you. Our advanced technology and years of expertise in the field make sure your HVAC is fit and functioning alright. We commit to complete customer satisfaction and thus leave no stone unturned while servicing your equipment.