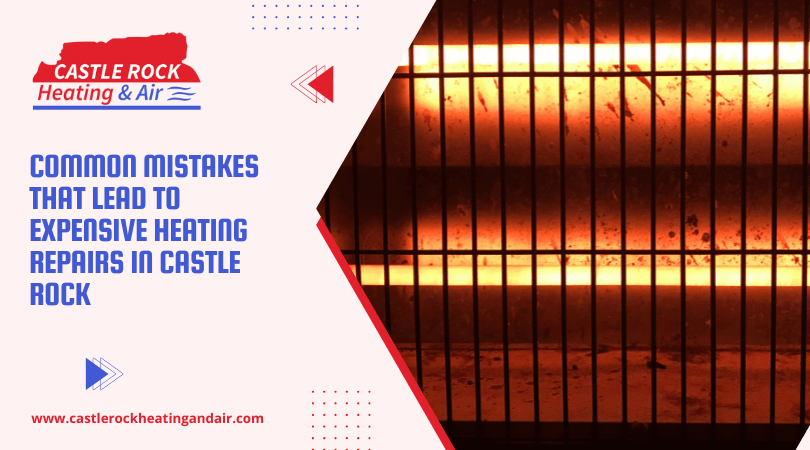 Maintaining the heater is essential for allowing a healthy and pleasant atmosphere in your home in Castle Rock, especially during the winters when the city experiences snowy cold weather.
But slight negligence in avoiding it can damage your heater beyond the scope of repairing them, which can further increase the repairing cost.
Therefore, to keep your heater in a smooth and working condition, read the blog to know the common errors you should keep at bay for conserving your heater.
6 Common Heating Mistakes to Avoid
1. A Lack Of Maintenance
It is completely natural for your heater to deteriorate with time. But lack of maintenance may lead to corrosion, dirt, dust, or even scale and sediment buildup, which increases the wear and tear.
To avoid it, all you need to do is to change the air filter regularly, inspect the heater for leaks, and clean the heater coils. Also, try to keep the surrounding area of the heater free from dirt or debris. These easy maintenance steps can prevent your heating system from expensive damage.
2. Running the heater 24/7
You might think that running the heater all day long can maintain a comfortable temperature in your home. But it can put you in big trouble. Constant use of your heater can wear it down rapidly and lead to more repairs.
Therefore, you must limit the use of your heating unit. The best way to deal with this issue is to install a programmable thermostat. With the help of this device, you can set specific times for your HVAC unit to turn on or off. This automated device also makes sure that the heater is not working overtime.
3. Not Updating the HVAC System
Technologically, HVAC units vary from time to time. And as an owner, you must have some knowledge regarding it. Compared to the newer units, if your HVAC system is too old, then it is worth considering an updating.
When it comes to newer units, they provide better indoor air quality and are energy-efficient. Therefore, an updation in the HVAC unit can save you money on energy bills and provide you with a comfortable environment. But while choosing a new HVAC unit, make sure you prefer the most suitable device that fits your requirements.
4. Ignoring The Early Signs Of Repairing
Usually, the heating system gives an early sign of breaking down. However, ignoring this may end up paying a heavy price for repair. Some of the common signs include weak airflow, cold spots, overheating, increased wear and tear, decreased efficiency, and high heating bills.
If you notice any of the signs of HVAC repair, do not waste a single moment in hiring professionals to inspect the unit and get it repaired. They can diagnose the problem and can recommend the best course of action. Thus, your heater can be saved before the damage.
5. Avoiding The Furnace Issues
Some of the issues associated with furnaces are dirty air filters, leaks, burner problems that can cause the furnace not to heat your home properly, or pilot light issues, which can prevent the furnace from starting. For the betterment of your family, have the furnace inspected if you notice any of such signs.
To keep such an issue at bay, try to change the air filter every month, and inspect it for leaks. Thus, you can keep your heater running smoothly for many years to come.
6. Undertaking DIY heating repairs
It is better to leave some tasks to the professionals rather than just carrying them out on our own. Although the intention behind repairing the heater on your own is certainly not bad. But, you may not possess the required knowledge for such a purpose and may end up inflicting more damage to your heater.
Professionals are certified and experienced and thus can carry out the repairing process much more efficiently without any loss and can offer guarantee and safety.
Summing Up
The heater can work in a much more efficient mode beyond your expectation for a much longer period, but only if a few mistakes are avoided. Therefore, as an owner, you should prevent them at any cost and let your heater work in a smooth and stable condition.